Simple Calendar is an extensible plugin that supports add-ons, which are simply WordPress plugins themselves that add features and functionalities to the core plugin. See our complete list of add-ons.
When installing an add-on plugin you must ensure that Simple Calendar is already installed and activated.
There are both free and premium add-ons available. Free add-ons are available on in the WordPress.org plugin directory and can be installed similar to Simple Calendar itself.
Premium add-ons such as Google Calendar Pro are also available. Click here for premium add-on installation instructions.
Free Add-on Step-by-Step Instructions
1 From your WordPress admin dashboard, go to the plugins page by choosing Add New from the Plugins menu item in the sidebar menu.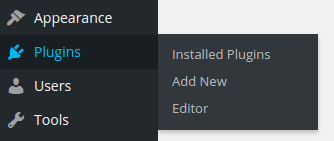 2 Type the name of the add-on you want to install. If  unsure, usually you can find these by entering Simple Calendar as keywords in the search field, hit enter and look among the results.

3 Click on the Install Now button to install and then click on Activate to activate the plugin.
Your Simple Calendar add-on is now installed and activated.