Additionally to shortcodes and attaching calendars to content, Simple Calendar comes bundled with a widget that allows you to display a calendar in WordPress widget areas.
To use this feature, your WordPress theme must support at least one widget area. If you are unsure about how widgets work, read more on WordPress widgets first.
1 To add a new Simple Calendar calendar widget, create a calendar first.
2 Click on Widgets from Appearance menu item in WordPress dashboard side menu.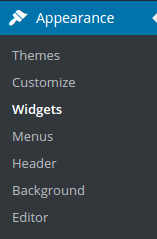 3 Find in the left group of inactive widgets the one labeled Simple Calendar.

4 Drag this widget in the widget area on the right where you want to display it.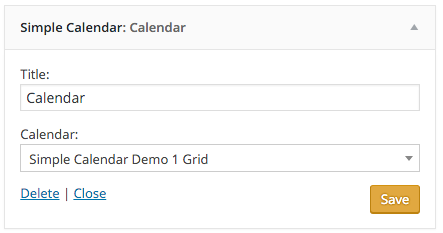 5 From the widget settings, you can enter a title for this widget, and select the calendar you wish to display.
Your selected calendar is now displayed in a widget in the chosen area. Any changes you will make to the selected calendar will also appear in the widgetized calendar.
Note: do not use the WordPress default text widget to display a calendar through a Simple Calendar shortcode. Use shortcodes in post content only.