In addition to add a calendar to your site via shortcode or a widget, Simple Calendar offers also a third way to attach a calendar to your content.
To learn more about this method, navigate to the plugin Settings in the Calendars menu item from your admin dashboard. From the settings page select the Calendars tab. From here you can see an Attach calendars setting. This setting allows you to define in which post types you want eventually to attach calendars using this method. By default, it is set to enable it on posts and pages.


If you navigate to a any post or page you will see a new panel called Attach Calendar. In this panel you can choose a calendar to display and set whether you want it displayed before or after the content. If you select nothing, nothing will change with your post content.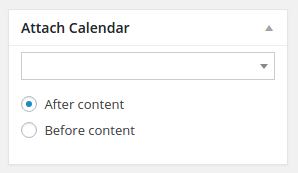 Unlike using shortcodes, this method doesn't allow you to place a calendar in the middle of your post content but it has a better performance and doesn't clutter your content with shortcode tags.